Discover the Power of QMS: A Comprehensive Overview of Features
Streamline your organization's processes, increase efficiency, and improve overall performance with our QMS software - experience the benefits of seamless quality management today.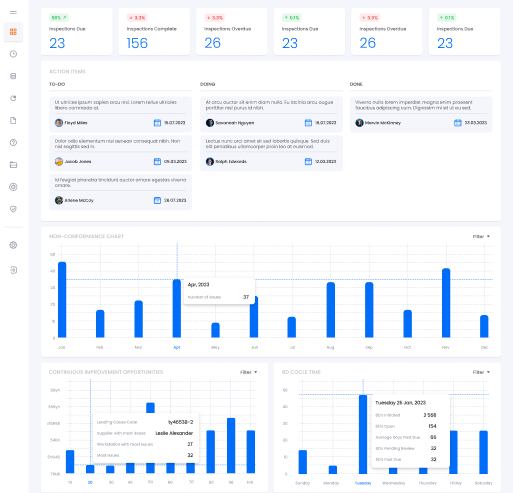 POWERFUL FEATURES
Explore the Key Features of Our QMS Software for Streamlined Quality Management
Our QMS software is designed to provide a comprehensive solution for quality management, with a range of powerful features that help to streamline processes, improve efficiency, and enhance overall performance. This page provides an overview of the key features of our QMS software, highlighting the benefits they offer and demonstrating how they can help your organization to achieve its quality management goals.
Document control features include document creation, review, approval, version control, tracking, and access control, ensuring compliance with quality standards and facilitating efficient management of quality-related documents.
Non-Conformance Management
Features of non-conformance management include documenting, assigning owners, taking corrective/preventive action, tracking, and reporting quality issues to enhance product/service quality and customer satisfaction while enabling continuous improvement.
A simple kanban board that centralizes tasks created from each module to enhance team collaboration and ensure completion of quality related tasks.
Create custom inspection sheets or customize our pre-built inspection sheet templates to capture quality-related data and ensure compliance with quality standards, enhancing quality control and assurance.
Build all your own internal and external audit forms, schedule, record, automate risk analysis, and put more focus on mitigation actions to ensure compliance with quality standards, identify areas for improvement, and facilitate continuous quality enhancement.
Build visual work instructions with pictures, drawings, or videos to convey clear and concise instructions for quality-related tasks, ensuring consistency, reducing errors, and enhancing product/service quality.
Track all your calibrated assets in one list, see when calibration is due, and maintain all calibration records to ensure they are functioning within required specifications, improving accuracy and reliability of measurements.
Get real-time visibility into key quality metrics, facilitating data-driven decision-making, monitoring of quality performance, and continuous improvement efforts.
One platform for all your QMS needs